The Ultimate Guide to Composite Pallet Blocks
What is composite pallet blocks?
The composite pallet blocks is extruded from wood chips at high temperature and pressure, it has a smooth surface, strong load-bearing capacity, no fumigation for export, and quality can meet the requirements of EPAL pallet standards.
Raw materials: waste wood, sawdust, waste pallets, shavings, wood scraps and so on.
Applications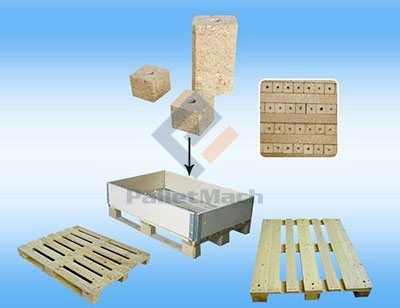 How are the blocks produced?
①Materials->②Crushing->③Drying->④Glue Mixing->⑤Pressing->⑥Stacking
The strengths of composite pallet blocks
High nail retention

No insect infestation (no Sirex treatment required)

No cracking

No mould infestation

Retains its shape in changing temperatures

Remains dimensionally accurate at constant moisture

Waterproof lamination

Can be recycled to new blocks
Get Support & Quotation