Pallet Block Machine
Pallet block machine, also named as pressed wood block machine, is used for production of wood blocks for wood pallets. We offer three types of this machine with varied specifications: single-head pallet block machine, double-head pallet block machine, and triple-head pallet block machine.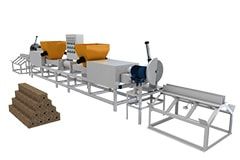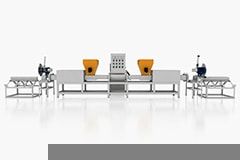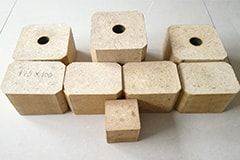 What materials can be used for making pallet block?
Sawdust, Shavings

Pallet block application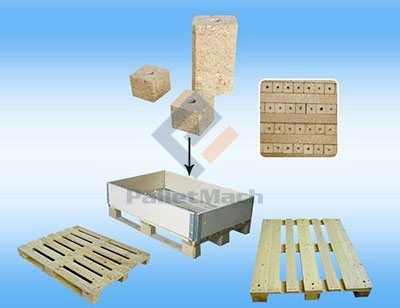 Features of pallet block machine
Reinforced structure, Temperature display.
Non-fumigation. The pallet block is made with high temperature so it is unnecessary for fumigation.
Simple operation. The unique PLC system and touch panel enable one working staff to operate 3 machines at the same time.
Cost saving. The pallet block machine can reuse the wood waste efficiently.
High loading capacity. The density of the block could reach up to 550-1000kg/m3, and the loading capacity can reach up 1-3 tons.
Flexible block size. The specifications of block can be customized within the range from 75mm to 145mm according to specific demands.
This machine can make blocks for European standard pallets, for two types that one type is with a hole inside and the other type is solid.
How does pallet block machine work?
The block is used to make the wood pallet base, which is for the transportation or storage pallet. The final product could get the E1 grade. The pallet block could be solid without a hole in the center, and also could be hollow, you can watch video in Youtube.
The hydraulic cylinder provides high pressure and pushes the piston to extrude and mold the materials.
The heating of the heating plate at the high temperature promotes the solidification and molding of urea-formaldehyde glue.
Cutting according to a certain length (usually around 1.2 m).
After cooling, cutting the long wood strips of half-finished products to the final size.
Wood pallet block production line
Blow is a layout diagram of semi-auto pallet block production line, you can watch working video in Youtube, of course we also provide fully automatic pallet block production line for you.

Equipments: 1. Wood crusher 2. Belt conveyor 3. Silo 4. Rotary drum dryer 5. Dust collector 6. Glue mixer 7. Bucket elevator 8. Pallet block machine
If you want to invest in a high-yield wood waste recycling project or pallet block project, PalletMach can provide you a one-stop solution which contains the project report on investment benefit analysis, and pallet market situation. Surely, we can help you with the sales and market expansion of pallet blocks. For more information, please email us info@palletmach.com.
Model and parameters
Model
PMS-T2
PMD-T4
PMT-T6
Size (mm)
4800*780*1320
4800*780*1320
4800*900*1420
Length and width of blcok (mm)
75-145
Power (kW)
16.86
22.26
30.26
Density (kg/m3)
550-600kg
Production efficiency (m3/24h)
2-5
3-6
5-9
Dimension with saw (mm)
8000*600*1500
8000*700*1500
8000*700*1500
Weight (kg)
1000
1500
2000
Block size: 75-145 mm in width, 75-145 mm in length. Customized by customer required.Power consumption average 70kwh for 1m³ pallet blocks
Why they choose us?
As a technology enterprise, PalletMach provides our clients with not only the high quality equipment for complete pallet production lines but also valuable supports for their business like equipment layout design, cable connection, installation services, and operation training.
As a responsible enterprise, PalletMach can draft a feasibility report including market research, costs and profits information. As a long-term business partner, PalletMach has initiated lifelong support and service for our clients other than doing one-off deal.
Thanks for reading. If you have any questions, you can email us: info@palletmach.com or Get Quotation with our sales manager immediately on right side of the page, or you can leave a message to us.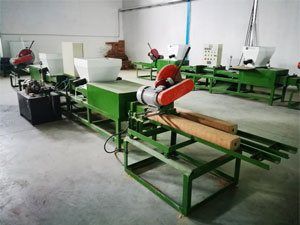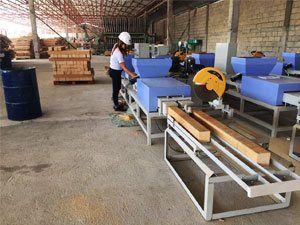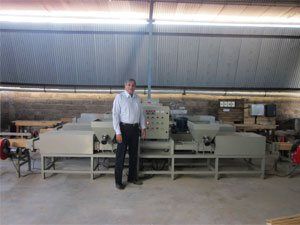 Thanks in advance. Expecting to receive your message.
Pallet Block Machine
Get Support & Quotation