Presswood pallet VS wooden pallet
Pallet is a horizontal plate for the assembly, stockpiling of goods for loading and transporting. And pallets are widely used in the fields of production, transportation, warehousing and logistics industry.
In the modern logistics industry, pallet can achieve the packaging of the unit, standardization and normalization, to facilitate commodity circulation. Pallet can effectively protect items, reduce good wear, and save packaging materials.
Hence, it will reduce packaging costs and saving transportation costs. Pallets can promote the modernization, mechanization of modern warehousing and logistics, to speed up loading and unloading, and transport, and to reduce the labor intensity.
While most pallets are wooden, pallets can also be made of plastic, metal, paper, and recycled materials. Each material has advantages and disadvantages relative to the others. The following will give the comparison of presswood pallet and wooden pallet.
Overview
Presswood pallet is the full name of plant fiber molded flat industrial pallet, with the overall structure. And the surface of pallet is smooth and flat, to meet the transport of various goods.
Wooden pallets use logs as the material, through the drying and modeling, to eliminate the internal stress, and then cutting, planning, sanding and other finishing processing, using nails to connect the wood plate, and the last is the wax sealing process.
Materials
| | |
| --- | --- |
| Presswood pallet | Wooden pallet |
| Wood shavings, plant straw, recycle raw materials, such as wood chips, waste wood pallets, waste wood, timbers, kraft paper, straw, bamboo, even if plastic | Log, Pine, hemlock, fir, hardwood and other miscellaneous hardwood |
Features of presswood pallet vs wooden pallet
1. Space saving.
Same size of presswood pallets is nestable. And, they can be easily separated from a stack with a fork lift truck. Nesting pallets reduces storage space by up to 66% than conventional wooden pallets.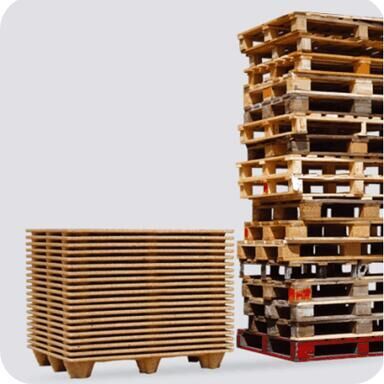 2. Lighter weight.
Presswood pallet is 60% lighter than conventional wooden pallet.
3. Excellent design.
Round edges design of presswood pallet is suitable for cargo safety, and perfect reinforcing rib to enhance loading ability. Accurate size with one time pressed, no bending.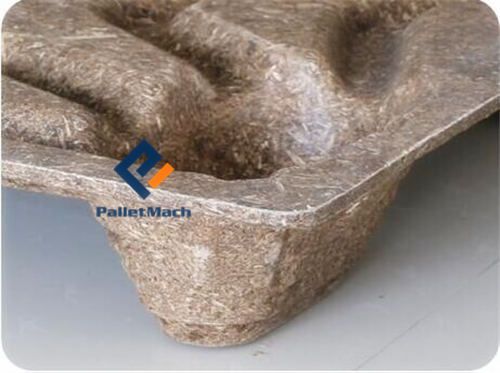 4. Safe.
Presswood pallet is one-piece design. There are no nails or staples to reduce product and package damage. And eliminating burrs help reduce employee and customer injuries.
On the contrary, nails and burrs of wooden pallet will hurt the goods and the workers. And warping and shrinking maybe occur all the time.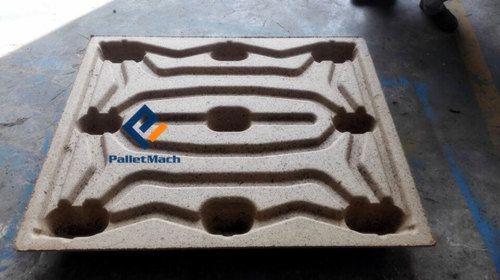 5. Environmentally friendly.
Presswood pallets are a resource-friendly, wood-based recycling product, made from recycled waste wood from saw mills and industry.
In contrast, raw materials of wooden pallet are almost logs, which are the non-renewable resources.
6. Ready for export.
Presswood pallets are acceptable for export into all over the world. The high temperature and pressure manufacturing process makes the pallets free fumigation and burns out all insect and larval infestations.
While, it is necessary that hot treatment of wooden pallets for overseas, which will increase the time and procedure of customs clearance.
7. Quality assurance.
Low 6-8% moisture content of presswood pallet reduces risk of product damage. And resin bonded construction provides high water resistance.
The other, wooden pallet is very difficult to clean and if they become wet can lead to the growth of bacteria and fungus.
8. Recyclable and renewable.
Old pallets which are no longer usable can be shredded and re-glued to make new presswood pallet. And the waste wooden pallets are only as the raw materials of presswood pallets.
Get Support & Quotation