No Deal Brexit and ISPM 15: pressed wood pallets make movement of pallets in and out of the UK remai
Pressed wood pallets are the better alternatives in logistics and warehouse industries. But wooden pallets are the traditional ones.
There is still a cloud of uncertainty around what exactly will happen on 29th March; perhaps a deal, perhaps a delay, or perhaps no deal. Nonetheless, the UK Government are advising businesses about their use of Wood Packaging Material (WPM) in the event of a 'No Deal Brexit'; https://www.gov.uk/guidance/importing-and-exporting-plants-and-plant-products-if-theres-no-withdrawal-deal#movement-of-wood-packaging-material.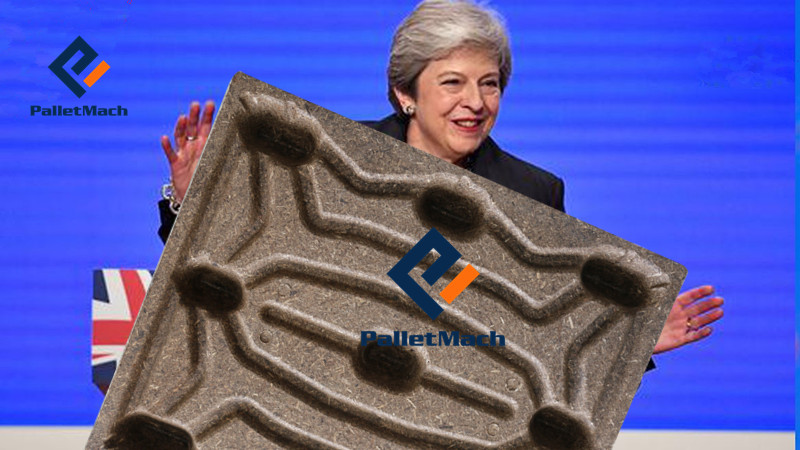 Frankly, until now UK businesses have been able to send goods to most EU countries on any old wooden pallet or crate. However, in the event of a 'No Deal' scenario, UK exporters to any EU country will immediately be obligated to ensure that their wood packaging material (WPM) conforms with ISPM15 guidelines (concerning the spread of quarantine pests between countries). Specifically, this means that all wooden pallets will need to be treated and marked according the ISPM15 regulations before they can enter an EU country. This is a huge issue for UK exporters, because there is simply not enough heat treatment capacity in the existing pallet industry to cope with the demand that will come.
However, the good news for users of pressed wood pallets is that they will face no such obstacles to move their goods, whether there is a deal, a delay, or no deal. Due to the manufacturing process of the 100% recycled wood content, pressed wood pallets are categorized as 'processed wood' meaning they are completely exempt from ISPM15 regulations and are allowed to move freely between the UK and EU countries (or indeed worldwide) without any treatment or marking.
In additional, pressed wood pallets are pressed one time under high temperature and high pressure, standard size, without metal materials in the pallets. Also, pressed wood pallets are of waterproof, insect prevention, and protection against termites, antisepticises and hard to burn. Besides, pressed wood pallets are low moisture usually within 6%-8%, non-hygroscopic and non-deformation. Also, pressed wood pallet is fit for import and export, and no need for fumigation.
Moreover, pressed wood pallets can be piled up together, and the height of 50 pieces of pallets is about 2.73 meters. And the forklift can scoop up pressed wood pallets from four sides. The dynamic load of pressed wood pallet can be 3 tons, while, the static load can be 10 tons.
Let PalletMach, the famous manufacturer of pressed wood pallet machine, helps ensure that your business and your pallets are Brexit ready! What's more, PalletMach can provide the whole solution of pallet production, to build your own pressed wood pallets.
To discuss your pallet project with one of our friendly expert team, just email us [email protected].
Get Support & Quotation